Pipeline
Glactone Pharma's Project Portfolio, May 2017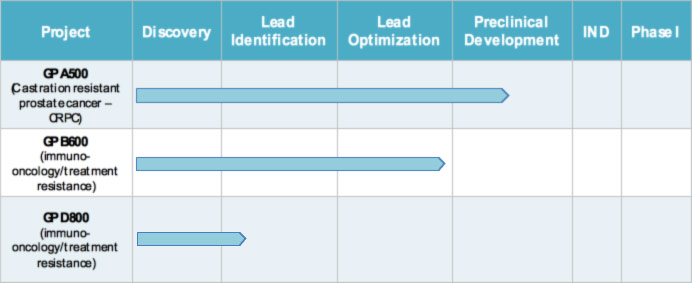 GPA500
Analogs of galiellalactone with improved drug- like properties that directly target STAT3. The compounds display effect against CRPC DU145 cells both in vitro and in vivo. The compounds show good pharmacokinetic properties following oral dosing. A candidate drug has been selected and has entered preclinical development. The project is in preclinical development.
GPB600
Synthetic analogs of galiellalactone with improved potency and selectivity. The project is in lead optimization phase. In vivo studies are ongoing: combinations with checkpoint blockade immunotherapy in enzalutamide resistant prostate cancer.
GPD800
Novel chemical series of highly potent STAT3 inhibitors. The project is in late lead identification phase and in vitro characterization is ongoing.